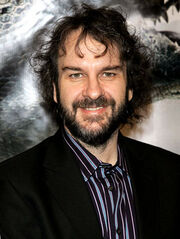 Peter Jackson is an Oscar winning director from New Zealand. He is well known for adapting the Lord of the Rings Trilogy and King Kong. He is also known for producing District 9 and the Hobbit trilogy of films based on the book.
He works with WETA Workshop. He has considered adapting Mortal Engines into a film, but nothing so far has come out of it until 2016. He also expressed interest in turning the other three into a film series, but no formal announcement of such plans.
Mortal Engines
In December 2009, New Zealand filmmaker Peter Jackson was reported to have begun development of a film based on the Philip Reeve's novel Mortal Engines.[1] It was until 2016 the film was indeed in the works and is scheduled to be released December 14, 2018. It premiered on November 27, 2018 at the Empire, Leicester Square in London.
References