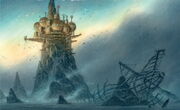 Rogues' Roost is a small northwestern base operated by the Green Storm. It only appears in Predator's Gold. It was originally owned by the pirate Red Loki, but the Green Storm took over.
In Rouge's Roost, the Commander, with some help from Dr Popjoy, a former London engineer, create a stalker version of Anna Fang. Rogue's Roost makes it's only appearance in Predator's Gold.
When Hester Shaw was captured by Widgery Blinkoe, she was taken to Rogues' Roost. where Sathya tried to use her to stimulate the Stalker Fang's memories of her life as Anna Fang.
It is located about 200 miles to the southern tip of Greenland.